Welcome to a special edition of Storybook homes. If you have been following Storybook Homes for any amount of time you know that my Dad ALWAYS comes to town to help me on at least 1 special project per renovation. 
Here he is helping me with a feature headboard wall at Bruce.
Ta dah!
He built a vanity top for Oliver:
And helped me with the pine shiplap at Donaghey.
Here are some action shots of him working on some special trim projects at Caldwell.
And the fruits of his labor:
He built the master vanity at the cinder block house:
And here he is working on one of the most tedious jobs to date- the wood wrapped entry wall at Lee Street.
Those are just a few pics that prove, not only is he an incredible Dad that sacrificially gives up his time and joints (climbing ladders and crawling on the floor is tough on an old man) to help make his daughter's design dreams come true, BUT ALSO, that he has some serious carpentry skilz. 
Sooooooo when Dad announced that he thought he might like to try his hand at flipping I was pumped and confident that he would do an incredible job. Plus, I was looking forward to being able to help him for a change in appreciation for the many times he has helped me. 
35 Mimosa Drive in Harrison Arkansas
The house was structurally sound, just in need of some cosmetic updates.  Plus it was a great size, in an established neighborhood, close to schools, and had recently undergone a major price drop after sitting on the market for awhile. Laura was able to negotiate a price that was in Dad's comfort zone and by July of last year he and his oldest grandson were swinging sledge hammers at the old floor plan. 
Because Dad forgot to get "before" pics before diving into demolition, (Like father like daughter) I borrowed some pics off the old realtor listing to give you a brief "before" tour:
When you walked in the front door you entered into a closed off formal living room:
On the other side of that left wall was a small dining room:
Through that cased opening you can see the kitchen…
Beyond the kitchen was a nice size gathering or family room:
On the other side of this classic ranch style house there was/is a long hall
with 2 kid bedrooms (no good pics of bedrooms) and a guest bath:
 And a master suite:
Complete with single sink vanity and fiberglass shower:
When you walk in the front door you are greeted with a Dad signature feature wall:
And that formal living room has been opened up to the kitchen: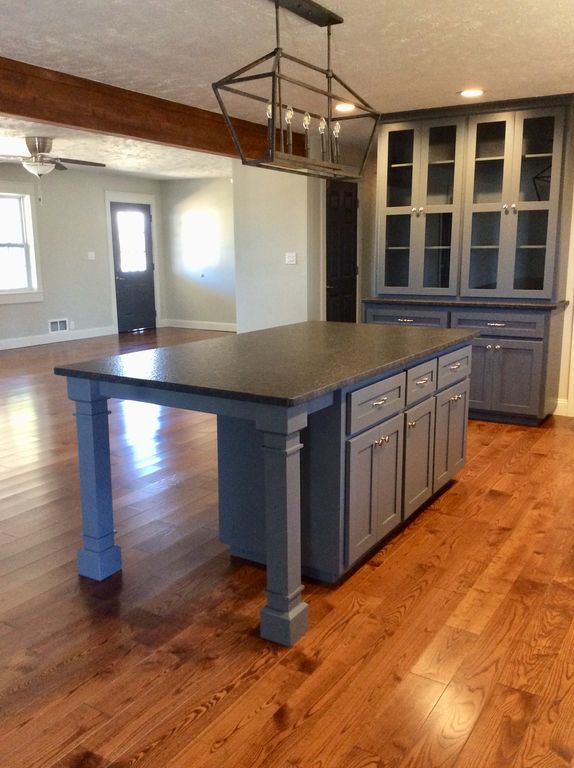 And speaking of the Kitchen…. What a transformation!!!  
Dad borrowed some space from the old dining room to expand the kitchen and converted the rest of the old dining Room into a Laundry/Pantry room. This was a genius use of space, if you ask me, because the old Laundry was located in the garage. 
Here is a view of the new gathering room:
And now down the hall…. don't you just love a freshly painted house and those new hardwood floors.
The guest bathroom was overhauled: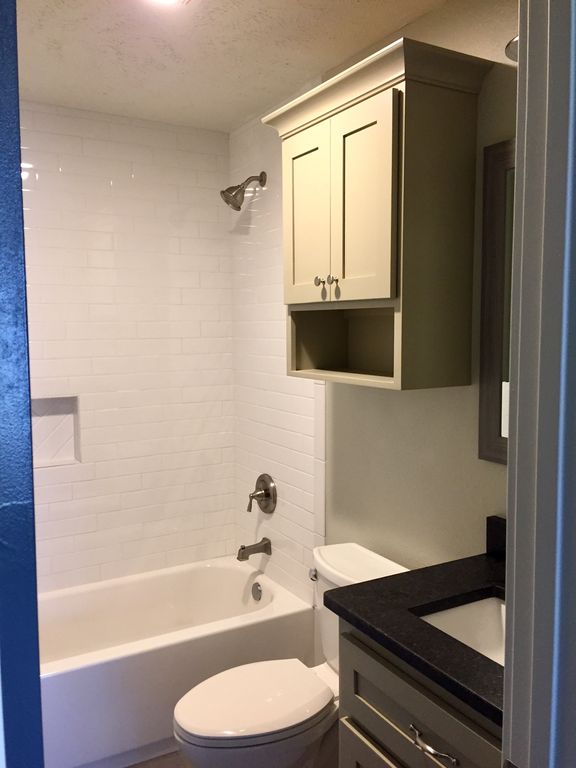 And the bedrooms were refreshed with new carpet, fan, and paint.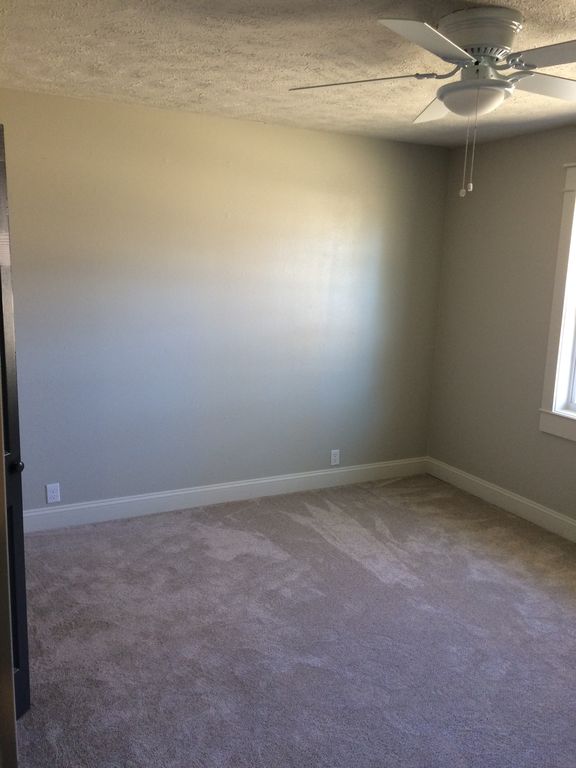 The master suite received a total makeover.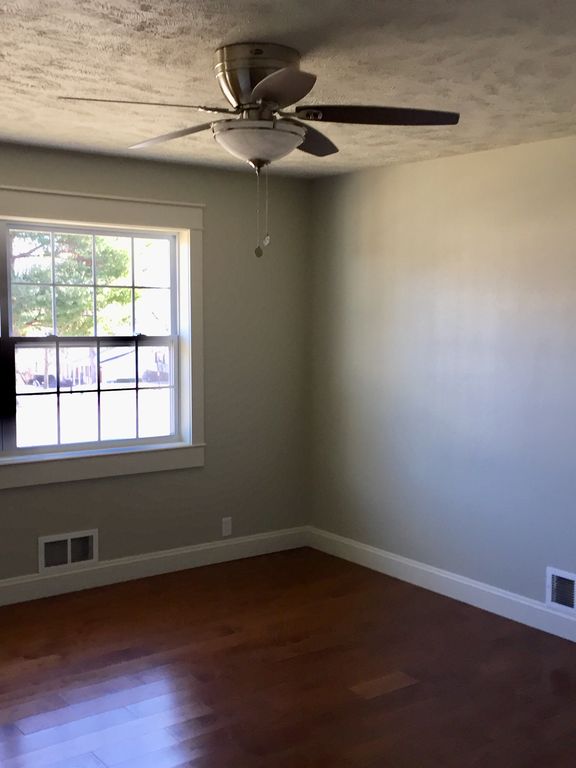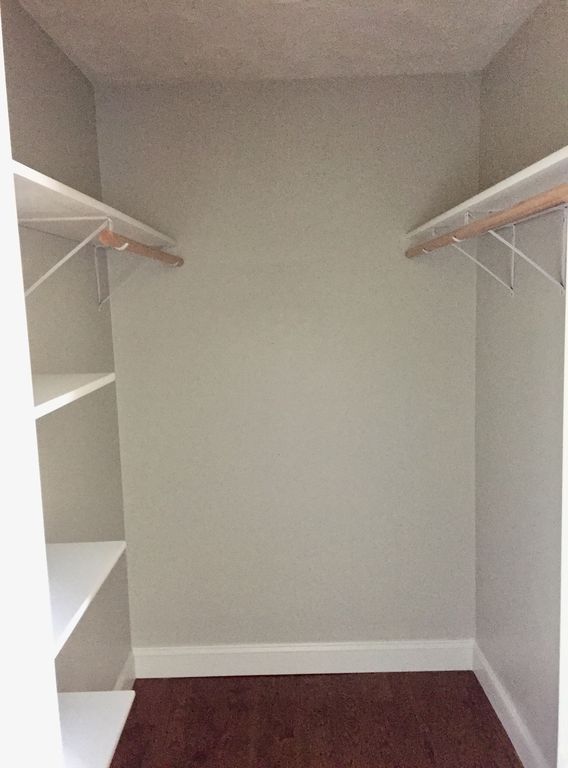 And the old master bathroom was expanded to include a large walk-in shower, double vanity and private potty room.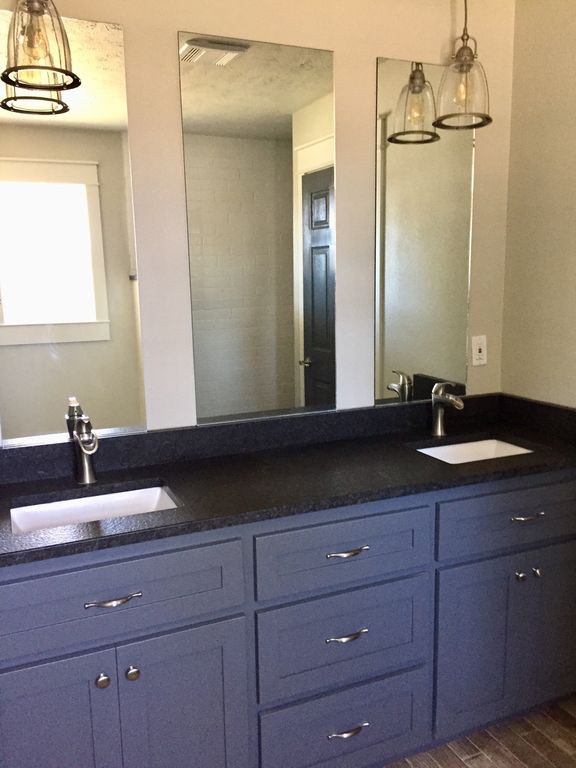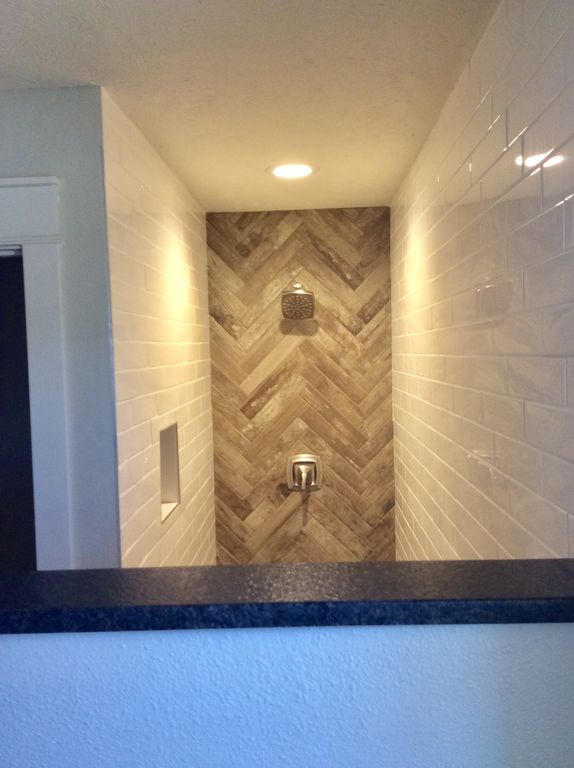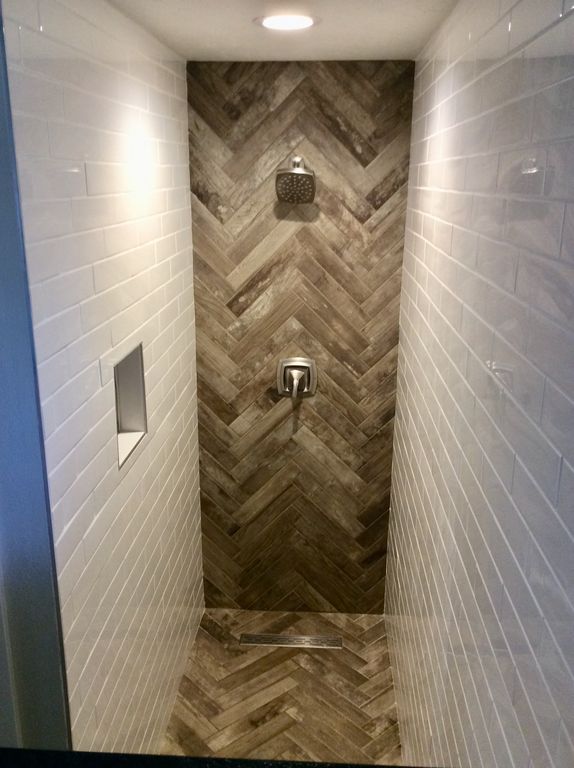 What do you think?!?! Did he do a great job or what!!
I'm so proud of him that I thought he deserved to have his very own Storybook Homes For Sale sign.
If you love it too, you should call the number above because according to Dad this was his first and last flip so there won't be another opportunity to own a Ghostwriter edition SBH in Harrison again!
Yep, I wish I could tell you that Dad fell in love with the reno biz but that is not how this story ends.  The job took triple the time he thought and (as is ALWAYS the case for me) went quite a bit over budget.  That, along with the everyday surprises and frustrations that come with renovating a home, led to his decision that flipping homes is just not how he wants to spend his retirement years.
Whether you are in the market for a new home or not, please stop by Dad's Open House this Sunday, February 24, 2019 from 2pm-4pm to pat him on the back and tell him what a great job he did. 
OPEN HOUSE
35 Mimosa Drive
Harrison, AR
February 24, 2019
2pm – 4pm